Basic Module
Customer and Space Inventory Database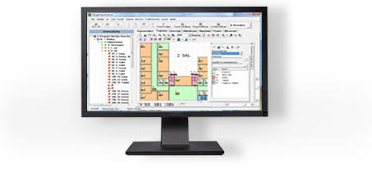 The Basic Module contains all you need to set up customer's master data and space inventories.
You may register all items of information about the rooms, such as room type, floor type, area, name, and cleaning frequency. Quality profiles, dept. attachment, comments, etc. may also be registered by you.
All this information is saved in The Cleaning System database, and will form the basic for the other functions, computations, and measuring in The Cleaning System.
Using the Basic Module, you can print room lists using the system's standard reports. You may also see and print drawings and work assignments made via the Measuring Module or Planning Module.
FUNCTIONS
SPACE INVENTORY Recording and maintenance of detailed room specifications, as well as simulation and final calculations.

DRAWING Allows viewing and printing drawings made with the Measuring Module.

WORK ASSIGNMENTS Allows viewing and printing work plans made via the Planning Module.

SYSTEM MAINTENACE Creation of new user profiles. Adjustment of the program to the individual user.

IMPORT/EXPORT OF DATA Exchange data with other systems, including export of room plans in CSV-format (i.e. useful in Microsoft Excel)